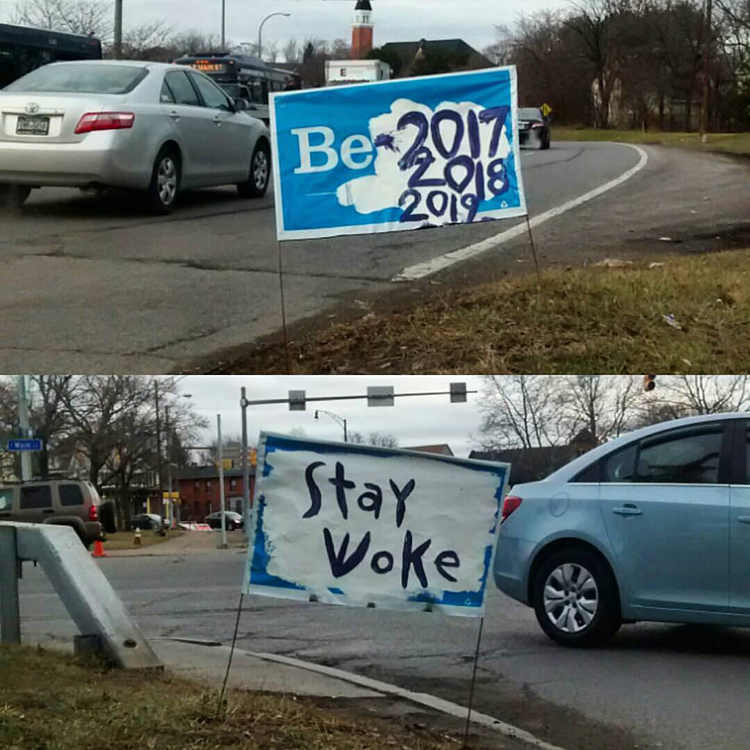 If politically stirred last year, what will you do this year? Was it lipservice? How to keep continued sustained engagement? When are your local 2017 primaries? County? City? Town? District? What is required to participate in them? Do you know the make-up of your local and state government? How do they differ from other states? What percentage of the eligible voting population participated in your zip code last fall, summer, spring? Who can't vote? >>> Plenty of groups been organizing for years, waiting for you to come to a meeting. Activism right now can be simply getting to know your civic environment. So much to be learned through whole, in-person experience, that days of combing the internet will not match,, , ,Democracy demands everyone touching for it to work. Continued sustained engagement. A few hours of your time every month goes a long way. Cultivate!
A graduate thesis presentation from Ray Ray Mitrano exploring civics through art. In the trajectory of the US Election 2016, variously enacted particpatory-installations, multi-media events, and performance-demonstrations are discussed. Culminating an MFA program through Visual Studies Workshop, Rochester, NY through SUNY Brockport.
A participatory animation voting experience at Visual Studies Workshop on Fri. Nov. 4th 2016 in Rochester, NY USA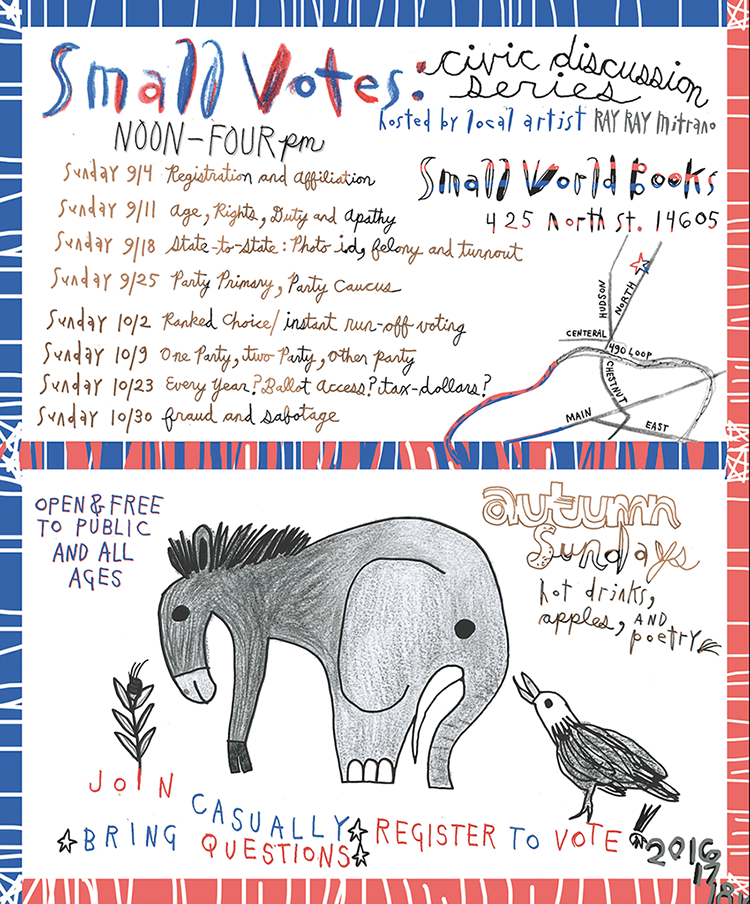 Small Votes: Weekly Autumn Sunday Afternoons
"A weekly voter discussion series hosted by local artist Ray Ray Mitrano at Small World Books throughout this fall election season.
Join in casually with themed afternoons. Coffee table talk, drawing based experiments, open podium readings and other question based excercises will be orchestrated to explore various topics on voting."
Free and open to the public. See full schedule for themes:
Sunday 9/4 Registration and Affiliation
Sunday 9/11 Age and Rights, Duty and Apathy
Sunday 9/18 State-to-State: Photo I.D., Felony and Turnout
Sunday 9/25 Party Primary, Party Caucus
Sunday 10/2 Ranked Choice/Instant Run-Off Voting
Sunday 10/9 One Party, Two Party, Other Party
Sunday 10/23 Every year? Ballot Access? Tax Dollars?
Sunday 10/30 Fraud and Sabatoge
Contact rayray@rayraymitrano.com with any questions and ideas. Hot drinks, apples, and Monroe County voter registration forms provided.
On the sidewalk of Monroe County Board of Elections engaging discussion on the idea of non-partisan, top-two, instant-runoff primaries in future New York Local, State and Federal Elections. It's the third time this year, during each of NY's three primaries.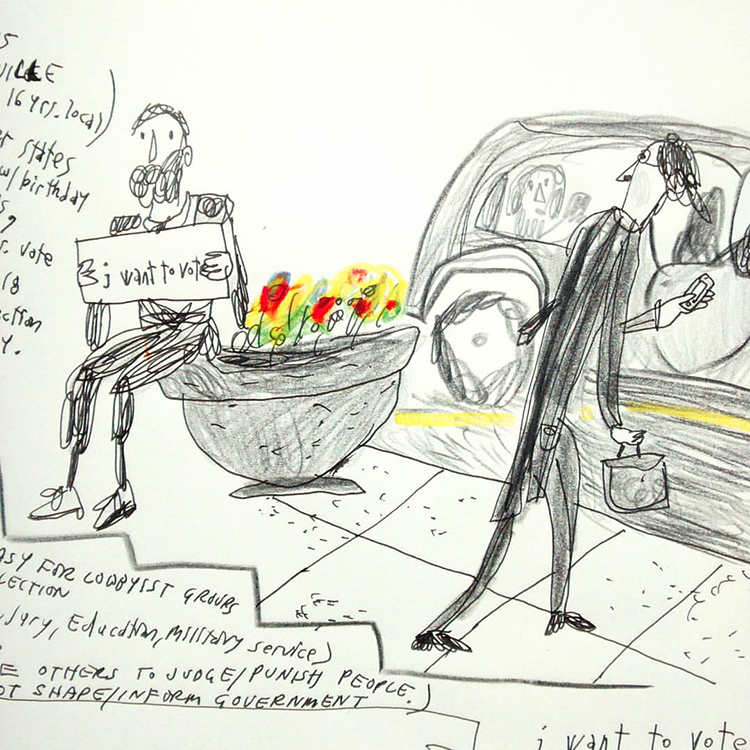 The final of three 2016 New York primary elections (4/19 Presidential 6/28 Congressional 9/13 State/County)
30% of NY registered voters are once again unable to participate in cultivating potential candidates for the fall election.
Many states are different. They have open primaries to voters regardless of affiliation. Some even utilize ranked choice voting and the top-two candidates, regardless of political party, go onto a fall election (Potentially a Democrat and a Democrat, or a Republican and a Republican, or maybe an Unaffiliated and a Democrat?) This method allows voters to cast robust, dynamic ballots that are not susceptible to voter sabotage (the main critique for opening party primaries.) However, all NY taxpayers contribute toward the $25 million for our Board of Elections to host the four election days this year. Being tax-payer funded, shouldn't these very important elections be open to all voters?
This year, 88% of congress is up for re-election. Many State and Local governemt positions are, too. However, most are not amidst with vigorous campaigning for seats in the State Assembly, State Senate, County Judges, Clerks and much else. Monroe County district ballots are sparse for this Tuesday election. Many potential candidates are unable to successfully challenge access to the closed Democrat or Republican party tax-payer funded nominating processes.
Are we that satisfied with our civic environment? Is our lack of diverse, accessible primaries a reason for the lacking, or none, of quality candidates to choose from in the fall? Why is registered voter turnout only expected to be around 11% in Monroe County today?
Around 10% of Monroe County's eligible voting population participated in the Sept. 13th closed state and local primary. The final of three tax payer funded New York primaries this year.
Are we that satisfied with our civic environment?
Part of VOTE Ray Ray Mitrano for Unaffiliated NY Primary Voter: Tues. 6/28 and 4/19, too.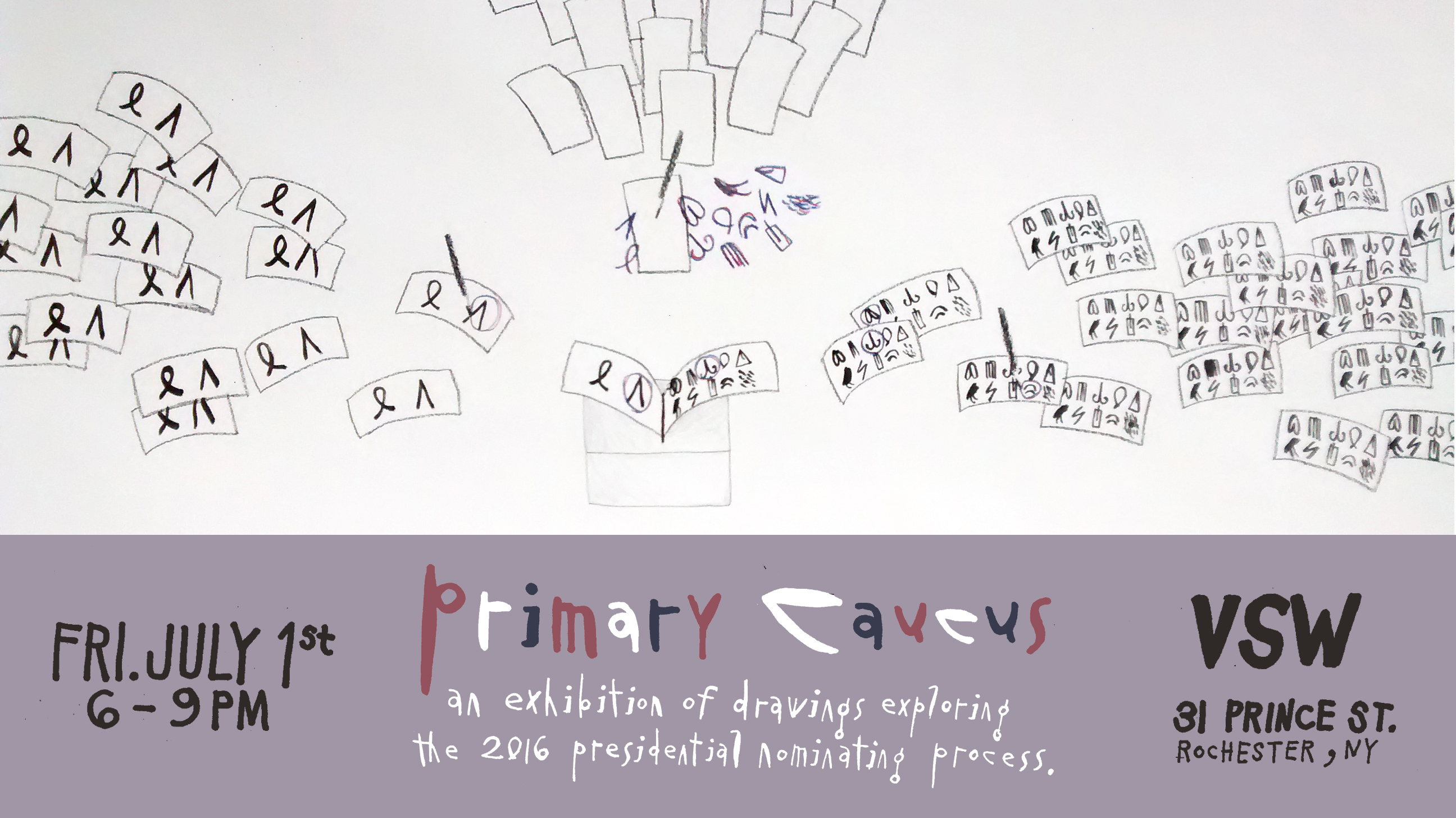 Primary Caucus at Visual Studies Workshop. An exhibition of drawings exploring the presidential primary and caucus nominating process. Fake News special coverage of the gallery show.
"What is a primary? What is a caucus? Which states have what? When? For which party? Why only two parties? Who pays for them? Why can't I vote in mine?
Over the past several months, local artist Ray Ray Mitrano has attempted to grasp what goes on in each state's polling stations through a system of ink-mark drawings. News media attention, party affiliation requirements, and voter eligibility all vary from state-to-state, territories and abroad. A baffling, convoluted process that most of the eligible voting population find inaccessible.
Join Ray Ray for a potluck-lawn-picnic to discuss these ideas. A series of performances on alternative voting methods, and other election based questions, are scheduled to occur throughout the evening."
Part of First Friday openings. Free and open to the public.
Fake News live coverage tour of Primary Caucus at Visual Studies Workshop
VOTE Ray Ray Mitrano for Unaffiliated NY Primary Voter: Tues. 6/28
Fake News coverage of the New York Congressional Primary in District 25 on Tues. June 28th, 2016. Great discussion on ballot access experiences, open, closed, top-two primaries, voter sabotage, ranked choice voting, voter turnout, H.R.2655, polling station worker eligibility and much more! Thanks to Noah Sargent and Tony D'Orazio for Congress, NY 25th Congressional District for coming out and sharing valueable perspectives.
Part of VOTE Ray Ray Mitrano for Unaffiliated NY Primary Voter: Tues. 4/19 and I want to vote: Tues. 9/13
VOTE Ray Ray Mitrano for Unaffiliated NY Primary Voter: Tues. 4/19 Monroe County Board of Elections
No one was turned away from these polls today!
"My name is Ray Ray Mitrano and I'm running for Unaffiliated New York Primary Voter this Tuesday, April 19th infront of the Monroe County Board of Elections 39 W. Main St. Rochester, New York 14614
Join my rally on the sidewalk and cast your ballots straight into the nearby garbage can!
Ray Ray Mitrano has been a registered voter since turning 18 years of age over a decade ago. Choosing not to affiliate with a political party upon registration Ray Ray has voted in many of the yearly general elections, however, in New York state is not permitted to particpate in the Closed Two-Party Presidential Primaries. This hinders his ability to grow future presidents through diversely accessible elections. Nearly 30% of all NY registered voters are unaffiliated and not able to participate this Tuesday in the primary."
Can Ray Ray count on your vote this Tuesday? **This rally is free and open to the public. All media coverage is welcome.**
Part of VOTE Ray Ray Mitrano for Unaffiliated NY Primary Voter: Tues. 6/28 and I want to vote: Tues. 9/13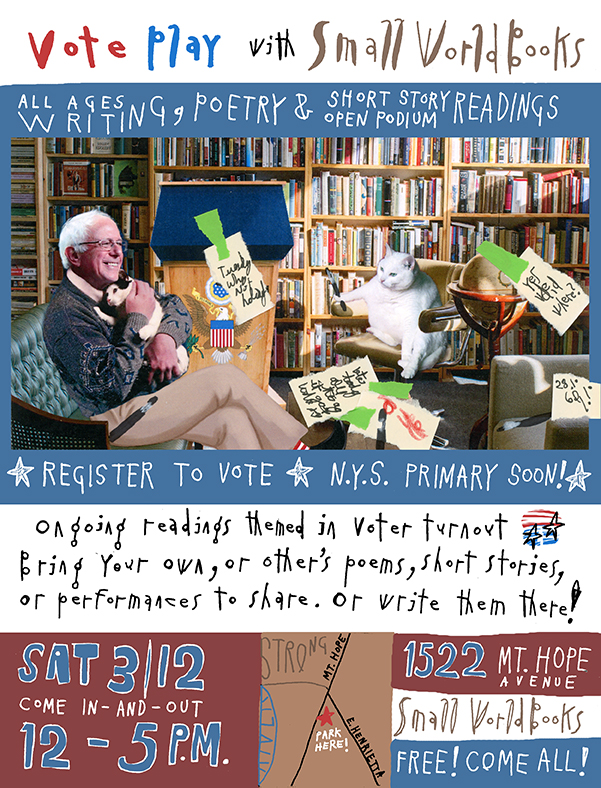 Vote Play with Small World Books: All Ages Writing, Poetry and Short Story Readings, Voter Registration!
"Come out for an all-ages afternoon exploring the dynamics of voting. Bring a story, or make a performance related to voting experiences, voter turnout, the nature of elections, or any topic seemingly unrelated! Whether it be direct or metaphoric, a lot of potential to get some great discussion going with the diverse amount of candidate views and debate subjects. Open podium all day. A space with paper and crayons for making poetry to hang up on the Small World Polling Poles will be hosted by local artist Ray Ray Mitrano."
Free and open to the public!
1PM-4PM Ongoing readings themed in the nature of voting, voter turnout, and all thoughts on votes. Bring your own, or other's, poems, short stories, or performances to share. Or write them there!
"All day voter registration with mail in Board of Elections voter forms available. Deadline for new voters to register and take part in the April New York State Primaries will be soon after! Bring friends who aren't registered and may want to know more about Bernie Sanders's campaign views on voter turnout."
Vote Play open podium and discussion through poetry polling at Small World Books.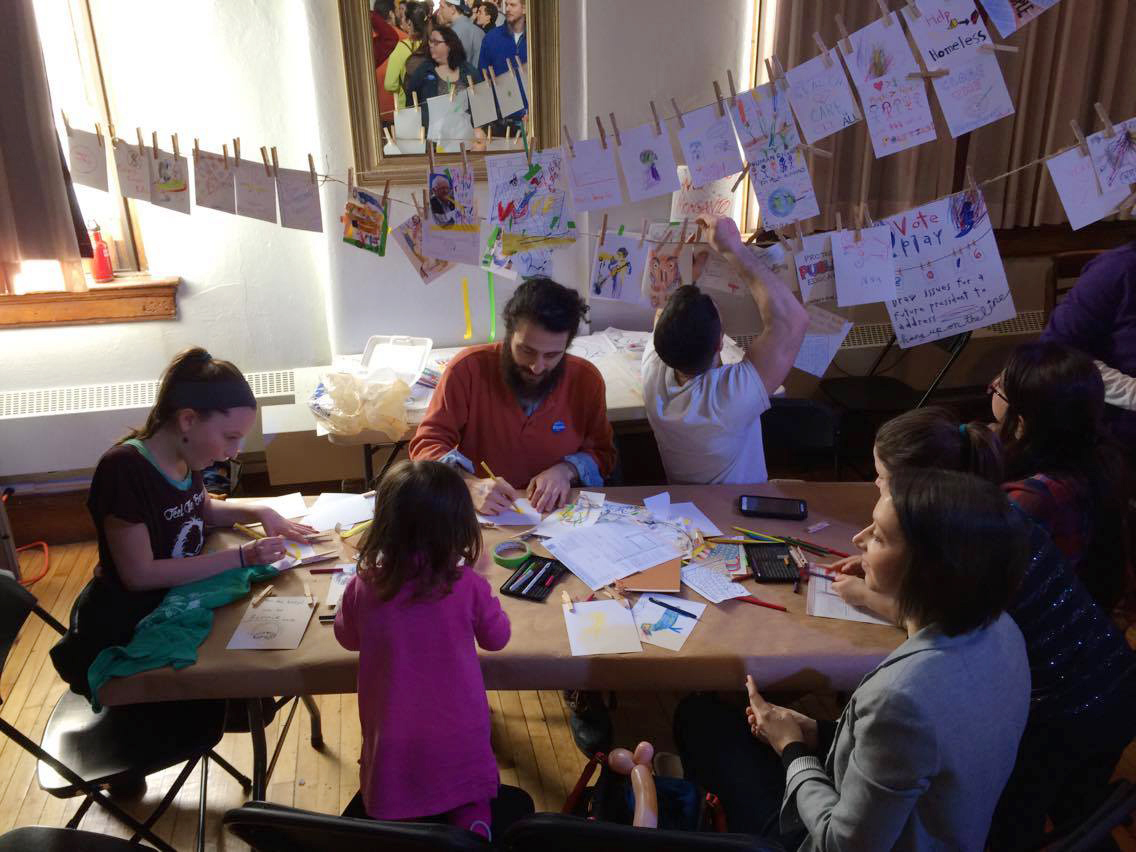 Bernin' Down the German House, All Day Festival!!
Draw issues for a future president to address and hang them up on the clothesline! Part of Vote Play all ages spaces at various Bernie campaign events throughout Rochester, NY. Come sit, relax and engage topics through drawing. Ongoing amidst a whole day program of local musicians fundraising to open a Monroe County for Bernie Sanders citizen organized campaign office.
Vote Play: An Interactive Event and Live-Stream from Bernie
Look out for Vote Play this weekend: An all ages space to explore presidential issues with paper, crayons and clothesline display!
All ages area with paper, crayons and clothesline! Come draw issues for a future president to address and hang 'em up on the line. Bring some lunch, bring a friend, catch some Visual Studies Workshop films, too!
A whole program of 16MM films from the Visual Studies Workshop collection themed in recent presidential debate issues ongoing 2PM - 5PM today. Come by for a few. Open discussion on thoughts between screenings. Potluck. BYOB. Live Stream from Bernie Sanders at 6PM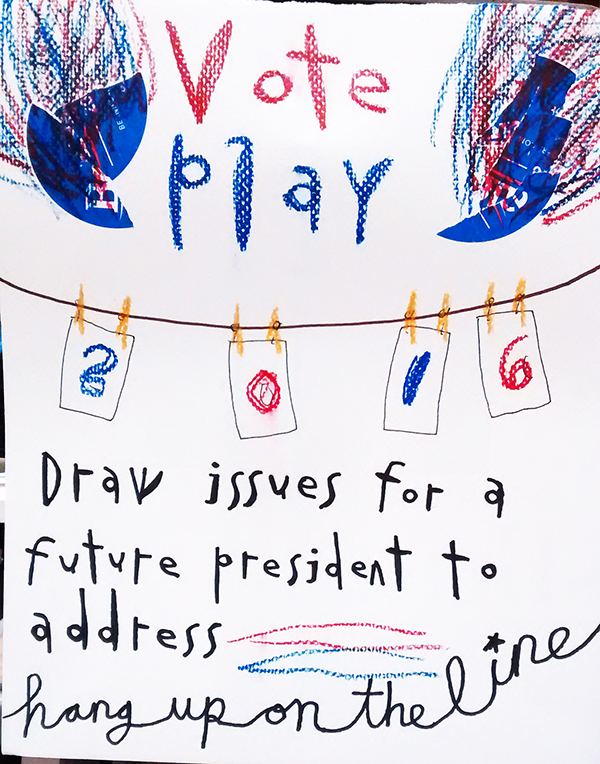 Part of Vote Play: An Interactive Event and Live-Stream from Bernie